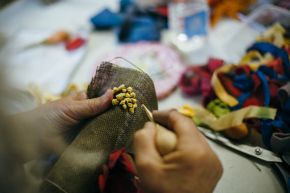 When:

Location: 8 Griffith St North Tamborine, Qld, 4272.
$95 per person. Tools: $40 each
Join me in the "War on Waste". Transform unwanted fabric or clothing into functional rugs and mats. In this workshop you will learn two techniques : Proggy and Hooky. You will also learn how to recycle and revive old fabrics and clothing with dye. We begin on a small piece, such as a cushion or mat.
You will have the opportunity to add to the communal dye pot and take home your transformed yardage.
This workshop prepares you for making bigger and better rugs of your own.
What to Bring:
Dress making scissors
Old T Shirts and stockings
Old woolen blankets or wool yardage.
Please bring a contribution for our healthy communal lunch.
Morning tea provided.
Join the Happy Hookers monthly meeting to complete your piece.
Booking Details:
$95 per person includes backing fabric and some pre dyed fabric from my stash to get you started.
Purchase tools on the day Proggies $40, or Hookies $40.