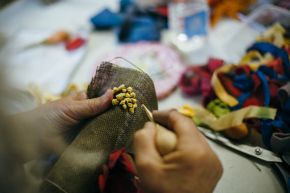 When:

Location: 8 Griffith St North Tamborine, Qld, 4272.
$95 per person. Tools: $40 each
Join me in the "War on Waste". Transform unwanted fabric or clothing into functional rugs and mats. In this workshop you will learn two techniques : Proggy and Hooky. You will also learn how to recycle and revive old fabrics and clothing with dye. We begin on a small piece, such as a cushion or mat.
This workshop prepares you for making bigger and better rugs of your own.
What to Bring:
Dress making scissors
Old T Shirts and stockings
Old woolen blankets or wool yardage.
Please bring a contribution for our healthy communal lunch.
Morning tea provided.
Join the Happy Hookers monthly meeting to complete your piece.
Booking Details:
Email to enquire about a group booking and for available dates. $95 per person based on a minimum of 6 people and maximum of 10 (Includes backing fabric and pre-dyed fabric to get you started)
Purchase tools on the day Proggies $40, or Hookies $40.