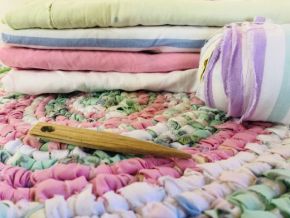 When:
April 16, 2023 9:30 am – 2:30 pm
October 2, 2023 9:30 am – 2:30 pm
Location: 8 Griffith St North Tamborine, Qld, 4272.
Cost: $90/ $100. Tools: $10
I love this rugmaking technique for its simplicity and practicality.
Bohemian Braid AKA Nalbinding, (needle binding in Danish) it is an ancient form of knitting used for making rugs, hats, baskets and even pet beds. This simple knotting technique makes very functional rugs that are machine washable and useful anywhere in the house.
Up cycling at its very best, you will learn how to transform old sheets and yardage with dye to create the colors you desire and then make rugs from them.
You will have the opportunity to add to the communal dye pot and take home your transformed yardage.
What to Bring:
Sewing Scissors
Old Sheets and
leftover Fabric (at least 1m wide)
Water Bottle
Bucket or plastic bag for taking wet dyestuff home
Byo lunch or let me order you a sandwich from my local Deli : Main St Provedore Menu
Morning tea provided.
Booking Details:
Early Bird $90 ( book and pay 1 month in advance ) Regular $100, Includes some pre-dyed fabric to get you started.
Purchase a tool on the day for $10.