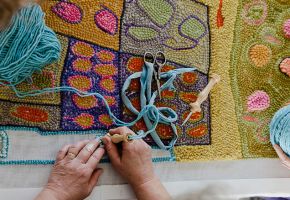 When:

Location: 8 Griffith St North Tamborine, Qld, 4272.
Cost: $100 / $110 - includes 400g wool and backing fabric to make one 35x35 chair pad. Tools $40
Come learn this quick and easy technique for producing woolen rugs by hand. Punch Needle Rug Making mimics my own process of hand tufting without all the infrastructure.
A simple hand-held tool, a backing cloth stretched tight onto a frame and some hand dyed wool, is all you need to catch the bug. I call it rug making for the modern maker. It is simple, fast and addictive.
A few years ago I traveled to the USA to where I met and learned punch needle rug making from Amy Oxford herself, and I have not looked back since.
I know its simple because I recently completed an artist in residency at a local primary school teaching 11 year old children' this technique.
Please bring a pair of scissors and a contribution for our healthy communal lunch. Morning tea provided.
Booking Details:
Early Bird $100 ( book and pay by April 3rd/July 2nd). Regular $110, includes backing fabric and 400g of wool, enough to produce a 35x35cm chair pad.