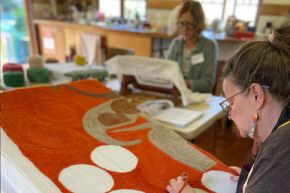 When:

Location: The Studio, Tamborine Mountain.
Cost $50/$60 - 10%off Rug Making Kits, Rug Wool, Backing Fabric on the day. All other supplies available as per usual.
Treat yourself to some creative time out to refresh your skills, be inspired, ask questions and share in the fabulous communal lunch. Designed for those of you who have attended my basic Punch Needle workshop and would like some studio time to work on your latest project. This is a great day to attend if you need to kick start a new project as Kits, Rug Wool and Backing Fabric will be 10% off. Sometimes we just need some downtime and this gently structured creative day out will be the perfect blend of social, productivity and inspiration. You may want to add on an overnight stay in "The Pink Pod" to round it off. Just email me about this.
Booking Details: Early Bird $50 ( book and pay one month in advance ). Regular $60 Rugmaking kits, Rug Wool and backing fabric 10 % off on the day.